First - WoW Exploit Community 2012 recommendations!
Sorry for not updating the site but We don't have time to this. We have decided to sell it. This site is for sale! first come first served- contact us: sales @ dtheatre.com
 All credits on this one go to: The-Guardian
Does not work on Vista to my knowledge.
Download: WoW Auto Login.exe
Virusscan at bottom. The supsipsiuos file and VB things are from the runtime module thats included with my program i dont knw what that other crap is.
Screenshots:
Main Interface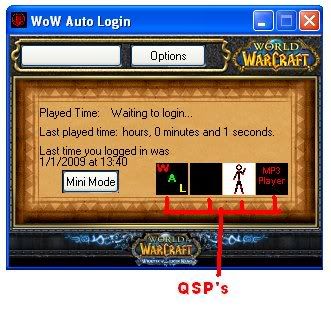 Options menu

a-squared 4.0.0.93 2009.02.14 Backdoor.Win32.VB!IK
AhnLab-V3 5.0.0.2 2009.02.13 –
AntiVir 7.9.0.79 2009.02.13 –
Authentium 5.1.0.4 2009.02.14 –
Avast 4.8.1335.0 2009.02.14 –
AVG 8.0.0.237 2009.02.14 –
BitDefender 7.2 2009.02.14 –
CAT-QuickHeal 10.00 2009.02.13 (Suspicious) – DNAScan
ClamAV 0.94.1 2009.02.14 –
Comodo 976 2009.02.13 –
DrWeb 4.44.0.09170 2009.02.14 –
eSafe 7.0.17.0 2009.02.12 Suspicious File
eTrust-Vet 31.6.6358 2009.02.14 –
F-Prot 4.4.4.56 2009.02.13 –
F-Secure 8.0.14470.0 2009.02.14 –
Fortinet 3.117.0.0 2009.02.14 –
GData 19 2009.02.14 –
Ikarus T3.1.1.45.0 2009.02.14 Backdoor.Win32.VB
K7AntiVirus 7.10.629 2009.02.13 –
Kaspersky 7.0.0.125 2009.02.14 –
McAfee 5525 2009.02.13 –
McAfee+Artemis 5525 2009.02.14 –
Microsoft 1.4306 2009.02.14 –
NOD32 3852 2009.02.13 –
Norman 6.00.02 2009.02.13 –
nProtect 2009.1.8.0 2009.02.14 –
Panda 10.0.0.10 2009.02.14 –
PCTools 4.4.2.0 2009.02.13 –
Prevx1 V2 2009.02.14 –
Rising 21.16.51.00 2009.02.14 –
SecureWeb-Gateway 6.7.6 2009.02.14 –
Sophos 4.38.0 2009.02.14 –
Sunbelt 3.2.1851.2 2009.02.12 –
Symantec 10 2009.02.14 –
TheHacker 6.3.2.1.256 2009.02.14 –
TrendMicro 8.700.0.1004 2009.02.13 –
VBA32 3.12.8.12 2009.02.14 Backdoor.Win32.VB.bdl
ViRobot 2009.2.14.1607 2009.02.14 –
VirusBuster 4.5.11.0 2009.02.13 –
Code:
Display Window  'Loading...' (ID='6', centered, background image, no icon, activate, borderless)
If  False:  File exists 'C:\Program Files\World of Warcraft\WoW2.ini'
Message  "Lets make this Quick, this is your first time starting the program or the INI got deleted.¶1. go to Options and set your Account.¶2. if you are prompted about WAL not finding WoW please select its location¶3. If WAL is not working for you. contact me on the MMOwned.com forums.¶____________________________________________________________¶Other neat features Added in v2:¶1. this! I didnt use a startup readme¶2. You can set 4 programs on the interface they are like icons except not on your desktop  ( Media Player for example)¶3. It keeps track of your hours played along with mins and seconds of course.¶4. MiniMode for use if you want to be placed on top of all windows... It's cool.¶¶¶" (Title: 'ReadMe', 'OK')
Message  "Thank you for using my program!¶If you experiance any glitches, problems, or have suggestions please PM them to me.¶¶Created by Guardian947 from the MMowned.com forums!!!" (Title: 'ReadMe2', 'OK')
End If
Draw  on window '6': Rectangle (X=135, Y=6, W=50, H=6, colored)
Wait  (Pause for 0.2 seconds)
Draw  on window '6': Rectangle (X=135.5, Y=6.5, W=10.7, H=5, colored, fill)
***  check wow
If  True:  Text compare  File exists 'C:\Program Files\World of Warcraft\Wow.exe"'
GoTo  found wow
End If
If  False:  Text compare  File exists 'C:\Program Files\World of Warcraft\Wow.exe"'
Display Window  'Wheres WoW???' (ID='2', activate)
Display Control  Label: 'Could not find "Wow.exe" in C:\Program Files\World of Warcraft\Wow.exe' (target window ID: '2')
Display Control  Label: 'Please Select "Wow.exe" in your World of Warcraft directory.' (target window ID: '2')
Display Control  Label: 'Or Select Launcher.exe which will ' (target window ID: '2')
Display Control  Label: 'open the World of Warcaft launcher(news and other sutff like that)' (target window ID: '2')
Display Control  Button: 'Select Wow file' (ID='Selectwow')
GoTo  found wow fail
End If
***  end check wow
Wait  infinite...

::  found wow

Wait  (Pause for 1 second)
Draw  on window '6': Rectangle (X=135.5, Y=6.5, W=24, H=5, colored, fill)
Display Control  Label: 'WoW.exe success!' (ID='scanning', colored)
GoTo  contstart
Wait  infinite...
::  found wow fail
Wait  (Pause for 1 second)
Draw  on window '6': Rectangle (X=135.5, Y=6.5, W=24, H=5, colored, fill)
Display Control  Label: 'WoW.exe failure please select wow.exe destination.' (ID='scanning', colored)
Wait  (Pause for 1 second)
GoTo  contstart
Wait  infinite...

::  contstart

Wait  (Pause for 0.2 seconds)
Draw  on window '6': Rectangle (X=135.5, Y=6.5, W=20, H=5, colored, fill)
Draw  on window '6': Rectangle (X=135.5, Y=6.5, W=33, H=5, colored, fill)
Display Control  Label: 'Looking at WAL files...' (ID='scanning', colored)
Read INI  'C:\Program Files\World of Warcraft\WoW2.ini, [1], 1' into [acc1]
Read INI  'C:\Program Files\World of Warcraft\WoW2.ini, [3], 1' into [Lastplayedtime]
Read INI  'C:\Program Files\World of Warcraft\WoW2.ini, [4], 1' into [lastlogin]
***  Read QSPs
Read INI  'C:\Program Files\World of Warcraft\WoW2.ini, [QSP], 1' into [prog1exec]
Read INI  'C:\Program Files\World of Warcraft\WoW2.ini, [QSP], 2' into [prog2exec]
Read INI  'C:\Program Files\World of Warcraft\WoW2.ini, [QSP], 3' into [prog3exec]
Read INI  'C:\Program Files\World of Warcraft\WoW2.ini, [QSP], 4' into [prog4exec]
Read INI  'C:\Program Files\World of Warcraft\WoW2.ini, [QSP], 5' into [MTset]
***  Sets
Set  in [prog1dis]:  '[prog1exec]' (remove '\', remove extension, Filename only)
Set  in [prog2dis]:  '[prog2exec]' (remove '\', remove extension, Filename only)
Set  in [prog3dis]:  '[prog3exec]' (remove '\', remove extension, Filename only)
Set  in [prog4dis]:  '[prog4exec]' (remove '\', remove extension, Filename only)
Modify file  'C:\Program Files\World of Warcraft\WoW2.ini' (+Hidden)
If  True:  Text empty '[acc1]'
Message  "You account has not been made or the file containing your account was deleted¶Please select Set Account, to set a new one." (Title: 'No Account', 'OK')
End If
Wait  (Pause for 1 second)
Draw  on window '6': Rectangle (X=135.5, Y=6.5, W=49, H=5, colored, fill)
Display Control  Label: 'Starting WAL!' (ID='scanning', colored)
Set  in [countstart2]:  '0'
Set  in [count3]:  '0'
Set  in [hours]:  '0'
Set  in [count2]:  '[countstart2]+1' (calculate)
Set  in [countmin]:  '0'
Wait  (Pause for 0.5 seconds)
GoTo  iX_Display_Control(NM)_Click
Wait  infinite...
***  START!
::  iX_Display_Control(NM)_Click
Display Window  Remove window (ID='6')
Display Window  Remove window (ID='5')
Display Window  'WoW Auto Login' (ID='1', background image, Icon from 'C:\Documents and Settings\Matt\My Documents\downarrow.ico', Min. enabled, activate)
Display Control  Button: 'Options' (ID='options', target window ID: '1')
Display Control  Label: 'Played Time:' (target window ID: '1')
Display Control  Label: 'Waiting to login...' (ID='timeplayed', target window ID: '1')
Display Control  Label: 'Last played time:' (target window ID: '1')
Display Control  Label: '[lastplayedtime]' (target window ID: '1')
Display Control  Label: 'Last time you logged in was' (target window ID: '1')
Display Control  Label: '[lastlogin]' (target window ID: '1')
Display Control  Button: '[acc1]' (ID='id2', target window ID: '1', colored)
Display Control  Button: 'Mini Mode' (ID='MM')
Display Control  Image: '%Program [prog1exec]%' (ID='qsp1', Button image='[prog1exec]')
Display Control  Image: '%Program [prog2exec]%' (ID='qsp2', Button image='[prog1exec]')
Display Control  Image: '%Program [prog3exec]%' (ID='qsp3', Button image='[prog1exec]')
Display Control  Image: '%Program [prog4exec]%' (ID='qsp4', Button image='[prog1exec]')
Draw  on window '1':  (X=-5, Y=52.2, Image: 'C:\Documents and Settings\Matt\My Documents\Autolog\WOTLK banner program.jpg', negative coords OK)
Wait  infinite...

***  MINI MODE
::  iX_Display_Control(MM)_Click
Display Window  Remove window (ID='1')
Display Window  'WoW Auto Login Mini' (ID='5', clear, topmost, Icon from 'C:\Documents and Settings\Matt\My Documents\downarrow.ico', activate, borderless, move freely, Transparency [MTset]%)
Draw  on window '5':  (X=0, Y=-10, Image: 'C:\Documents and Settings\Matt\My Documents\Autolog\ShutdownDialogBackground.bmp', negative coords OK)
Display Control  Label: 'Played Time:' (target window ID: '5')
Display Control  Label: 'Waiting to login...' (ID='timeplayed', target window ID: '5')
Display Control  Label: 'Last played time:' (target window ID: '5')
Display Control  Label: '[lastplayedtime]' (target window ID: '5')
Display Control  Label: 'Last time you logged in was' (target window ID: '5')
Display Control  Label: '[lastlogin]' (target window ID: '5')
Display Control  Button: 'Normal Mode' (ID='NM1', target window ID: '5')
Display Control  Image: '%Program [prog1exec]%' (ID='qsp1', target window ID: '5', Button image='[prog1exec]')
Display Control  Image: '%Program [prog2exec]%' (ID='qsp2', target window ID: '5', Button image='[prog1exec]')
Display Control  Image: '%Program [prog3exec]%' (ID='qsp3', target window ID: '5', Button image='[prog1exec]')
Display Control  Image: '%Program [prog4exec]%' (ID='qsp4', target window ID: '5', Button image='[prog1exec]')
Return

***  Normal mode

::  iX_Display_Control(NM1)_Click
Display Window  Remove window (ID='6')
Display Window  Remove window (ID='5')
Display Window  'WoW Auto Login' (ID='1', background image, Icon from 'C:\Documents and Settings\Matt\My Documents\downarrow.ico', Min. enabled, activate)
Display Control  Button: 'Options' (ID='options', target window ID: '1')
Display Control  Label: 'Played Time:' (target window ID: '1')
Display Control  Label: 'Waiting to login...' (ID='timeplayed', target window ID: '1')
Display Control  Label: 'Last played time:' (target window ID: '1')
Display Control  Label: '[lastplayedtime]' (target window ID: '1')
Display Control  Label: 'Last time you logged in was' (target window ID: '1')
Display Control  Label: '[lastlogin]' (target window ID: '1')
Display Control  Button: '[acc1]' (ID='id2', target window ID: '1', colored)
Display Control  Button: 'Mini Mode' (ID='MM')
Display Control  Image: '%Program [prog1exec]%' (ID='qsp1', Button image='[prog1exec]')
Display Control  Image: '%Program [prog2exec]%' (ID='qsp2', Button image='[prog1exec]')
Display Control  Image: '%Program [prog3exec]%' (ID='qsp3', Button image='[prog1exec]')
Display Control  Image: '%Program [prog4exec]%' (ID='qsp4', Button image='[prog1exec]')
Draw  on window '1':  (X=-5, Y=52.2, Image: 'C:\Documents and Settings\Matt\My Documents\Autolog\WOTLK banner program.jpg', negative coords OK)
Return

***  Run QSPs
::  iX_Display_Control(qsp1)_Click
Run  "[prog1exec]" (Activate)
Return
::  iX_Display_Control(qsp2)_Click
Run  "[prog2exec]" (Activate)
Return
::  iX_Display_Control(qsp3)_Click
Run  "[prog3exec]" (Activate)
Return
::  iX_Display_Control(qsp4)_Click
Run  "[prog4exec]" (Activate)
Return

***  Timer
::  Counter NM
Loop start   ([timer]  of 0  to 59)
Display Control  Label: '[timerhour] hours, [timermin] minutes, and [timer]  seconds ' (ID='timeplayed', target window ID: '1')
Write INI  'C:\Program Files\World of Warcraft\WoW2.ini, [3], 1'=[timerhour] hours, [Countmin] minutes and [timer] seconds.
Write INI  'C:\Program Files\World of Warcraft\WoW2.ini, [3], timer'=[timer]
Write INI  'C:\Program Files\World of Warcraft\WoW2.ini, [3], timermin'=[timermin]
Write INI  'C:\Program Files\World of Warcraft\WoW2.ini, [3], timerhour'=[timerhour]
Read INI  'C:\Program Files\World of Warcraft\WoW2.ini, [3], timermin' into [timermin]
Read INI  'C:\Program Files\World of Warcraft\WoW2.ini, [3], timerhour' into [timerhour]
Wait  (Pause for 1 second)
If  True: '([timer]=59)'
Set  in [timermin]:  '[timermin]+1' (calculate)
GoTo  Counter NM
End If
If  True: '([timermin]=60)'
Set  in [timermin]:  '0' (calculate)
Set  in [timerhour]:  '[timerhour]+1' (calculate)
End If
Loop end
::  Counter MM
Loop start   ([timer]  of 0  to 59)
Display Control  Label: '[timerhour] hours, [timermin] minutes, and [timer]  seconds ' (ID='timeplayed', target window ID: '5')
Write INI  'C:\Program Files\World of Warcraft\WoW2.ini, [3], 1'=[timerhour] hours, [Countmin] minutes and [timer] seconds.
Write INI  'C:\Program Files\World of Warcraft\WoW2.ini, [3], timer'=[timer]
Write INI  'C:\Program Files\World of Warcraft\WoW2.ini, [3], timermin'=[timermin]
Write INI  'C:\Program Files\World of Warcraft\WoW2.ini, [3], timerhour'=[timerhour]
Read INI  'C:\Program Files\World of Warcraft\WoW2.ini, [3], timermin' into [timermin]
Read INI  'C:\Program Files\World of Warcraft\WoW2.ini, [3], timerhour' into [timerhour]
Wait  (Pause for 1 second)
If  True: '([timer]=59)'
Set  in [timermin]:  '[timermin]+1' (calculate)
GoTo  Counter MM
End If
If  True: '([timermin]=60)'
Set  in [timermin]:  '0' (calculate)
Set  in [timerhour]:  '[timerhour]+1' (calculate)
End If
Loop end

***  END timer

::  iX_Display_Control(close)_Click
Exit  Script
Return

***  Used tp start WoW and type in Account info. requires press of Left Shift to type account info

::  iX_Display_Control(id2)_Click
Wait  (Pause for 0.3 seconds)
Read INI  'C:\Program Files\World of Warcraft\WoW2.ini, [1], Location' into [Wowexe]
Run  "[Wowexe]" (Activate)
Loop start
If  True: '([iX.Screen.Key]=160)'     <---------- LEFT SHIFT!!!!!
Set  in [timermin]:  '0' (calculate)
Read INI  'C:\Program Files\World of Warcraft\WoW2.ini, [1], 1' into [acc1]
Read INI  'C:\Program Files\World of Warcraft\WoW2.ini, [1], 2' into [pass1]
Wait  (Pause for 0.1 seconds)
Keys  "[acc1]" (Wait)
Wait  (Pause for 0.2 seconds)
Keys  "{TAB}" (Wait)
Wait  (Pause for 0.2 seconds)
Keys  "[pass1]" (Wait)
Wait  (Pause for 0.2 seconds)
Keys  "{Enter}" (Wait)
Wait  (Pause for 0.1 seconds)
Set window  'World of Warcraft',  (Activate, New caption: 'WAL-World of Warcraft')
Write INI  'C:\Program Files\World of Warcraft\WoW2.ini, [4], 1'=[iX.Date] at [iX.Time~~hh:nn]
Display Window  Remove window (ID='1')
End If
Loop end
Return

***  Normal mode startup
::  iX_Display(5)_Control(NMwowon)_Click
Display Window  Remove window (ID='1')
Display Window  Remove window (ID='5')
Display Window  'WoW Auto Login' (ID='1', background image, Icon from 'C:\Documents and Settings\Matt\My Documents\uparrow.ico', Min. enabled, activate)
Display Control  Button: 'Options' (ID='options', target window ID: '1')
Display Control  Button: 'Close WoW' (ID='closewow', target window ID: '1')
Display Control  Label: 'Played Time:' (target window ID: '1')
Display Control  Label: 'Waiting to login...' (ID='timeplayed', target window ID: '1')
Display Control  Label: 'Last played time:' (target window ID: '1')
Display Control  Label: '[lastplayedtime]' (target window ID: '1')
Display Control  Label: 'Last time you logged in was' (target window ID: '1')
Display Control  Label: '[lastlogin]' (target window ID: '1')
Display Control  Button: '[acc1]' (ID='id2', target window ID: '1', colored)
Display Control  Button: 'Mini Mode' (ID='MMtoNMwowon')
Display Control  Image: '%Program [prog1exec]%' (ID='qsp1', Button image='[prog1exec]')
Display Control  Image: '%Program [prog2exec]%' (ID='qsp2', Button image='[prog1exec]')
Display Control  Image: '%Program [prog3exec]%' (ID='qsp3', Button image='[prog1exec]')
Display Control  Image: '%Program [prog4exec]%' (ID='qsp4', Button image='[prog1exec]')
Draw  on window '1':  (X=-5, Y=52.2, Image: 'C:\Documents and Settings\Matt\My Documents\Autolog\WOTLK banner program.jpg', negative coords OK)
GoTo  Counter NM

***  Mini Mode startup
::  iX_Display_Control(MMwowon)_Click
Display Window  Remove window (ID='1')
Display Window  Remove window (ID='5')
Display Window  'WoW Auto Login Mini' (ID='5', clear, topmost, Icon from 'C:\Documents and Settings\Matt\My Documents\uparrow.ico', activate, borderless, move freely, Transparency [MTset]%)
Display Control  Button: 'Close WoW' (ID='closewow', target window ID: '5')
Draw  on window '5':  (X=0, Y=-10, Image: 'C:\Documents and Settings\Matt\My Documents\Autolog\ShutdownDialogBackground.bmp', negative coords OK)
Display Control  Label: 'Played Time:' (target window ID: '5')
Display Control  Label: 'Waiting to login...' (ID='timeplayed', target window ID: '5')
Display Control  Label: 'Last played time:' (target window ID: '5')
Display Control  Label: '[lastplayedtime]' (target window ID: '5')
Display Control  Label: 'Last time you logged in was' (target window ID: '5')
Display Control  Label: '[lastlogin]' (target window ID: '5')
Display Control  Button: 'Normal Mode' (ID='NMtoMMwowon', target window ID: '5')
Display Control  Image: '%Program [prog1exec]%' (ID='qsp1', target window ID: '5', Button image='[prog1exec]')
Display Control  Image: '%Program [prog2exec]%' (ID='qsp2', target window ID: '5', Button image='[prog1exec]')
Display Control  Image: '%Program [prog3exec]%' (ID='qsp3', target window ID: '5', Button image='[prog1exec]')
Display Control  Image: '%Program [prog4exec]%' (ID='qsp4', target window ID: '5', Button image='[prog1exec]')
GoTo  Counter MM
Wait  infinite...

***  Mini mode to Normal interface

::  iX_Display_Control(MMtoNMwowon)_Click
Display Window  Remove window (ID='1')
Display Window  Remove window (ID='5')
Write INI  'C:\Program Files\World of Warcraft\WoW2.ini, [3], 1'=[timerhour] hours, [Countmin] minutes and [timer] seconds.
Write INI  'C:\Program Files\World of Warcraft\WoW2.ini, [3], timer'=[timer]
Write INI  'C:\Program Files\World of Warcraft\WoW2.ini, [3], timermin'=[timermin]
Write INI  'C:\Program Files\World of Warcraft\WoW2.ini, [3], timerhour'=[timerhour]
Display Window  Remove window (ID='1')
Display Window  'WoW Auto Login Mini' (ID='5', clear, topmost, Icon from 'C:\Documents and Settings\Matt\My Documents\uparrow.ico', activate, borderless, move freely, Transparency [MTset]%)
Display Control  Button: 'Close WoW' (ID='closewow', target window ID: '5')
Draw  on window '5':  (X=0, Y=-10, Image: 'C:\Documents and Settings\Matt\My Documents\Autolog\ShutdownDialogBackground.bmp', negative coords OK)
Display Control  Label: 'Played Time:' (target window ID: '5')
Display Control  Label: 'Waiting to login...' (ID='timeplayed', target window ID: '5')
Display Control  Label: 'Last played time:' (target window ID: '5')
Display Control  Label: '[lastplayedtime]' (target window ID: '5')
Display Control  Label: 'Last time you logged in was' (target window ID: '5')
Display Control  Label: '[lastlogin]' (target window ID: '5')
Display Control  Button: 'Normal Mode' (ID='NMwowon', target window ID: '5')
Display Control  Image: '%Program [prog1exec]%' (ID='qsp1', target window ID: '5', Button image='[prog1exec]')
Display Control  Image: '%Program [prog2exec]%' (ID='qsp2', target window ID: '5', Button image='[prog1exec]')
Display Control  Image: '%Program [prog3exec]%' (ID='qsp3', target window ID: '5', Button image='[prog1exec]')
Display Control  Image: '%Program [prog4exec]%' (ID='qsp4', target window ID: '5', Button image='[prog1exec]')
GoTo  Counter MM
***  Normal interface to Mini mode

::  iX_Display(5)_Control(NMtoMMwowon)_Click
Display Window  Remove window (ID='1')
Display Window  Remove window (ID='5')
Write INI  'C:\Program Files\World of Warcraft\WoW2.ini, [3], 1'=[timerhour] hours, [Countmin] minutes and [timer] seconds.
Write INI  'C:\Program Files\World of Warcraft\WoW2.ini, [3], timer'=[timer]
Write INI  'C:\Program Files\World of Warcraft\WoW2.ini, [3], timermin'=[timermin]
Write INI  'C:\Program Files\World of Warcraft\WoW2.ini, [3], timerhour'=[timerhour]
Display Window  Remove window (ID='5')
Display Window  'WoW Auto Login' (ID='1', background image, Icon from 'C:\Documents and Settings\Matt\My Documents\uparrow.ico', Min. enabled, activate)
Display Control  Button: 'Options' (ID='options', target window ID: '1')
Display Control  Button: 'Close WoW' (ID='closewow', target window ID: '1')
Display Control  Label: 'Played Time:' (target window ID: '1')
Display Control  Label: 'Waiting to login...' (ID='timeplayed', target window ID: '1')
Display Control  Label: 'Last played time:' (target window ID: '1')
Display Control  Label: '[lastplayedtime]' (target window ID: '1')
Display Control  Label: 'Last time you logged in was' (target window ID: '1')
Display Control  Label: '[lastlogin]' (target window ID: '1')
Display Control  Button: '[acc1]' (ID='id2', target window ID: '1', colored)
Display Control  Button: 'Mini Mode' (ID='MMwowon')
Display Control  Image: '%Program [prog1exec]%' (ID='qsp1', Button image='[prog1exec]')
Display Control  Image: '%Program [prog2exec]%' (ID='qsp2', Button image='[prog1exec]')
Display Control  Image: '%Program [prog3exec]%' (ID='qsp3', Button image='[prog1exec]')
Display Control  Image: '%Program [prog4exec]%' (ID='qsp4', Button image='[prog1exec]')
Draw  on window '1':  (X=-5, Y=52.2, Image: 'C:\Documents and Settings\Matt\My Documents\Autolog\WOTLK banner program.jpg', negative coords OK)
GoTo  Counter NM
Return

***  Change name of the name of WoW window. did it for the looks

::  iX_Display_Control(closewow)_Click
Set window  'WAL-World Of Warcraft',  (Close)
Return
***  Options Window
::  iX_Display_Control(options)_Click
Display Window  'Options' (ID='3', Icon from 'C:\Documents and Settings\Matt\My Documents\Autolog\wow.ico', activate)
Display Control  Button: 'Set Account' (ID='id8', target window ID: '3')
Display Control  Label: '[acc1]' (target window ID: '3')
Display Control  Button: 'Set Program 1' (ID='pro1', target window ID: '3')
Display Control  Label: '[prog1dis]' (target window ID: '3')
Draw  on window '3':  (X=70, Y=6, Image: '%Program [prog1exec]%')
Display Control  Button: 'Set Program 2' (ID='pro2', target window ID: '3')
Display Control  Label: '[prog2dis]' (target window ID: '3')
Draw  on window '3':  (X=70, Y=16, Image: '%Program [prog2exec]%')
Display Control  Button: 'Set Program 3' (ID='pro3', target window ID: '3')
Display Control  Label: '[prog3dis]' (target window ID: '3')
Draw  on window '3':  (X=70, Y=24, Image: '%Program [prog3exec]%')
Display Control  Button: 'Set Program 4' (ID='pro4', target window ID: '3')
Display Control  Label: '[prog4dis]' (target window ID: '3')
Draw  on window '3':  (X=70, Y=32, Image: '%Program [prog4exec]%')
Display Control  Button: 'Set Mini Transparancy' (ID='MT')
Display Control  Label: '[MT]' (ID='MT1', target window ID: '3')
Return

***  Transparancy Options
::  iX_Display_Control(MT)_Click
Display Window  'Mini Transparancy' (ID='4', centered, Icon from 'C:\Documents and Settings\Matt\My Documents\Autolog\wow.ico', activate, Transparency [iX..Control(MTslide)]%)
Display Control  Button: 'SET!' (ID='settran', target window ID: '4')
Display Control  Hor. slider: value '0' (ID='MTslide', target window ID: '4', Min=1, Max=100, Step=1)
Display Control  Label: '[iX..Control(MTslide)]%' (ID='MT2', target window ID: '4')
Draw  in window:  (X=0, Y=-10, Image: 'C:\Documents and Settings\Matt\My Documents\Autolog\ShutdownDialogBackground.bmp', negative coords OK)
Output  "TEST" (line break, 20 point)
Return
::  iX_Display(4)_Control(MTslide)_Click
Set  in [MTset]:  '[iX..Control(MTslide)]'
Write INI  'C:\Program Files\World of Warcraft\WoW2.ini, [QSP], 5'=[MTset]
GoTo  iX_Display_Control(MT)_Click
Return

::  iX_Display(4)_Control(settran)_Click
Exit  Loop
Display Window  Remove window (ID='4')
Return

***  Selection of the Quick Startup Programs; Icons that are used to start up programs from the interface
::  iX_Display(3)_Control(pro1)_Click
Select file  'Select Program' in [prog1exec]
Write INI  'C:\Program Files\World of Warcraft\WoW2.ini, [QSP], 1'=[prog1exec]
Display Window  Remove window (ID='3')
GoTo  iX_Display_Control(options)_Click
Return
::  iX_Display(3)_Control(pro2)_Click
Select file  'Select Program' in [prog2exec]
Write INI  'C:\Program Files\World of Warcraft\WoW2.ini, [QSP], 2'=[prog2exec]
Display Window  Remove window (ID='3')
GoTo  iX_Display_Control(options)_Click
Return
::  iX_Display(3)_Control(pro3)_Click
Select file  'Select Program' in [prog3exec]
Write INI  'C:\Program Files\World of Warcraft\WoW2.ini, [QSP], 3'=[prog3exec]
Display Window  Remove window (ID='3')
GoTo  iX_Display_Control(options)_Click
Return
::  iX_Display(3)_Control(pro4)_Click
Select file  'Select Program' in [prog4exec]
Write INI  'C:\Program Files\World of Warcraft\WoW2.ini, [QSP], 4'=[prog4exec]
Display Window  Remove window (ID='3')
GoTo  iX_Display_Control(options)_Click
Return

***  Set Account info. Used for Start WoW prossess
::  iX_Display_Control(id8)_Click
Input  "Whats your Account name?" in [acc]
Write INI  'C:\Program Files\World of Warcraft\WoW2.ini, [1], 1'=[acc]
Input  "Whats your Password?" in [pass] (Password)
Write INI  'C:\Program Files\World of Warcraft\WoW2.ini, [1], 2'=[pass]
Read INI  'C:\Program Files\World of Warcraft\WoW2.ini, [1], 1' into [acc1]
If  True:  Text compare  File exists 'C:\Program Files\World of Warcraft\Wow.exe"'
Set  in [wowexe]:  '"C:\Program Files\World of Warcraft\Wow.exe"'
Write INI  'C:\Program Files\World of Warcraft\WoW2.ini, [1], Location'=[Wowexe]
End If
If  False:  Text compare  File exists 'C:\Program Files\World of Warcraft\Wow.exe"'
Display Window  'Wheres WoW???' (ID='2', no icon, activate)
Display Control  Label: 'Could not find "Wow.exe" in C:\Program Files\World of Warcraft\Wow.exe' (target window ID: '2')
Display Control  Label: 'Please Select "Wow.exe" in your World of Warcraft directory.' (target window ID: '2')
Display Control  Label: 'Or Select Launcher.exe which will ' (target window ID: '2')
Display Control  Label: 'open the World of Warcaft launcher(news and other sutff like that)' (target window ID: '2')
Display Control  Button: 'Select Wow file' (ID='Selectwow')
End If
Display Control  Button: '[acc1]' (ID='id2', target window ID: '1', colored)
Display Window  Remove window (ID='3')
GoTo  iX_Display_Control(options)_Click
Return
***  Select WoW.exe used in case of unable to find WoW.exe
::  iX_Display_Control(Selectwow)_Click
Select file  'Select wow.exe' in [Wowexe] (Default='C:\Program Files\World of Warcraft\Wow.exe', Type(s)='wow.exe;  launcher.exe')
Write INI  'C:\Program Files\World of Warcraft\WoW2.ini, [1], Location'=[Wowexe]
Return