First - WoW Exploit Community 2012 recommendations!
Sorry for not updating the site but We don't have time to this. We have decided to sell it. This site is for sale! first come first served- contact us: sales @ dtheatre.com
In this guide I will explain how to diguise yourself into a stormwind guard :]
First of all i requires you to be .. erm .. human. So all you NE's and Draenei ans such please do NOT continue reading unless you have nothing better to do
1. Da Shield: Crest of Darkshire It can be achieved by completing a quest in Duskwood, it's fairly easy!
2. Da helmet: Imperial Plate Helm Obtainable through blacksmithing, if you have nothing on you hands ..
3. Da Shouldas: Hulkstone Pauldrons Also obtainable via a quest
4. Da chest: Imperial Plate Chest Also crafted ..
5. Da Bracers: Overlord's Vambraces Item is dropped by various mobs
6. Da leggings: Imperial Plate Leggings Blacksmithing needed!
7. Da Gloves: Golden Scale Gauntlets Again blacksmithing is required
8. Da belt: Brigandine Belt Can be purchased in several stores! (easiest to get to
)
9. Da Weapon: Lord General's Sword Dropped by General Angerforge in Blackrock Depths
10. And last but not least: Da Tabard! Private's Tabard You need some tokens to purchase this at the quartermaster, not hard though
That will be all wich is needed to transform your character into a genuine Stormwind Guard! To proove this I have a nice Screenshot!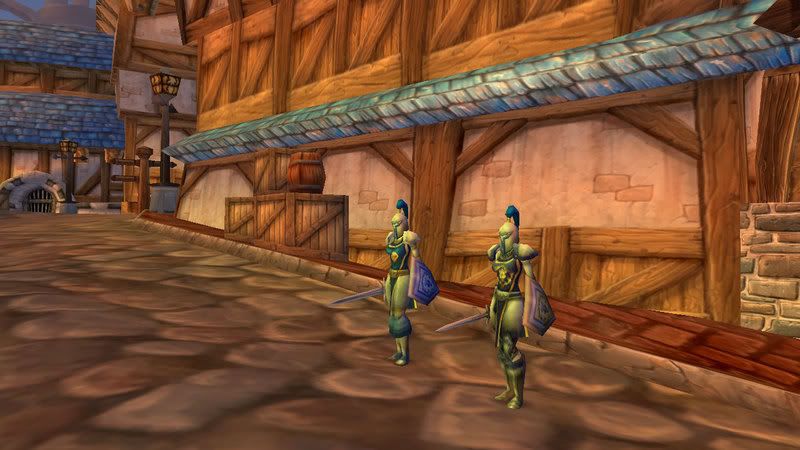 Enjoy!